24 Oct 2023
Babcock featured in The Engineer's 'Top Ten Employers 2023' list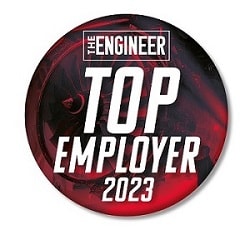 We are delighted to announce that The Engineer has featured Babcock in their 'Top Ten Employers 2023' list.
The Engineer's 'Top Employer' survey took place in September this year and explored a range of areas, diving into participants' preferred types of employment, preference on hybrid and remote working and if they are expecting to stay in industry for the next five years, they were also asked to rank a number of areas which, in their view, are key to defining attaining 'Top Employer' status. Unsurprisingly, a competitive salary, job security, and other financial benefits ranked highly, but are viewed as secondary in importance to a good work life balance and flexible working options.
Respondents were also asked which company, aside from their own, they considered to be the top engineering employer. A wide range of different companies and organisations were referenced, and we're proud to have received commendations to be included in their Top Ten Employers list.
At Babcock, we strive to create an environment where all our employees feel supported, empowered and listened to. We know that it is our people who are key to delivering for our customers, achieving success at the cutting edge of their fields, so we're committed to providing a supportive and inclusive culture, personal development opportunities, a competitive salary, flexible working options and a superb package of benefits. And we're delighted that The Engineer's survey results has backed this up and put Babcock in their 'Top Ten Employers' list, which we hope will attract more people to a career at Babcock where we are creating a safe and secure world, together.
You can find out more about working at Babcock, here.